Mortgage Information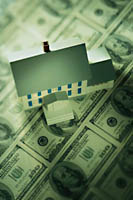 If you're like most buyers, a home is the most expensive purchase you'll ever make, and you'll probably need some form of financing.
There are many lending institutions that offer a variety of mortgage products. Financing options and rates can vary widely, so it is important to do your research and shop around to ensure you get the mortgage that best meets your needs at the best price.
We would be happy to refer you to some very good mortgage lenders who we have had excellent experience with in helping other buyers purchase homes in the Southern Indiana area.
Use the mortgage calculators below to assist you in making some decisions around financing your new home.